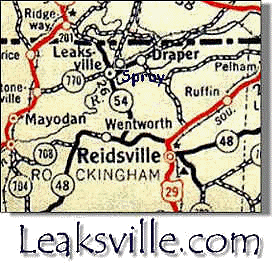 Leaksville.com Tribute Page
Thanks for your comments...Please refresh this page to read yours.


Be sure to check out the Message Board and Forum
---
William Ernest "Buddy" Bray -Feb 5 1905-Feb 4 1967


He was my great uncle, but. I called him "Papa.". He was the kindest and sweetest man I ever met and I loved him very much. He worked as a rug weaver at Fieldcrest Mills in Leaksville. He walked back and forth to work every day. He was named "Mr. Fieldcrest" at one time and there was an article in The Mill Whistle about him.


When I was staying with them, I would meet him in the afternoon walking home from the mill coming up South Hamilton Street. He would always have a candy bar for me in one of the many pockets of his overalls.


I miss him more every day and remember that he always had time to play games with me and count the cars at night as we sat out on the front porch in the swing.


deborah reynolds
---
Peter Jones
pcabac3264@free-fast-email.com

i liked your site
---
matthew turman
mturman@triad.rr.com

I love You memaw. You have always helped me with a problem. You have done so much for me. thank you. love with all my heart. I love you barbra turman. your grandson matthew.
---
LUCILLE DILLON MCCLENNEY
Luclledmc@yahoo.com

leaving a tribute to jennie rakes hall lived to 106, at the home of her daughter and son-in-law , william jefferson and lucinda hall jefferson. (JANE) DIED THERE IN 1928. SHE IS BURIED UNDER A LARGE SYCAMORE TREE IN THE OVERLOOK CEMETERY. SHE IS MY GREAT GREAT GREAT GRANDMOTHER.
---
Mac Robertson
macrob@triad.rr.com

Jack Baker, Scoutmaster of Troop 15 at the First Baptist Church in Leaksville. Jack was an inspiration to many boys. Especially me. He was a family man of good moral character. He served as Scoutmaster of Troop 15 from 1950 to 1960. He then served as Chairman of the Dan River District, BSA. Jack was a man who made a difference and will always be remembered by the boys whose lives he impacted.
---
elizabeth williams gregg
libbygregg@HOTMAIL.COM

i love my memories of home. lately i have been thinking of my first teachers at Leaksville Graded. I loved them all. first was mr.newlin. a precious person who was always there. even through high school. if we could have teachers now like ms.moir, ms.swindell, ms ivey, ms royster, ms.holmes and ms.weatherly.they were the greatest.
---
Joey E. Terry
jeterry@ball.com

My dad was Samuel W. Terry he was captured as part of the D Day (June 6, 1944) invasion while running communication cable in an area which was supposed to be secure. He spent 9 months in a German P.O.W. camp. He passed away December 26th 1976 (he was only 55). I would like everyone to give a lot of thought to what we were and are fighting for and realize that a lot of people have sacrificed for us to be here, my dad gave 9 months of his life, many gave more. I would appreciate any recognition you could give him.
---
"A Tribute to Mr. Ronald E Brown, Sr." March 18, 1896 - March 6, 1977
He was my grandpa and probably the person whom I loved more than I have ever loved anyone else in my life. He was honest, hard-working, generous, and kind. If only more people were like him, this world would be a happier place.
---
Steve Turner
prodigalsonxtb4j@earthlink.net
"A Tribute to Pauline Wilson" "It's been 16 years since you passed, I think of you everyday. If I bothered the whole world, you were always happy to see me. You never believed unkind things, because you had the best in character. Your selflessness didn't seek recognition, for that, you deserve it all." I love you- your grandson, Steve
---