Leaksville-Spray-Draper Triplets Baseball Team
From 1934 until the 1942 Season, Leaksville-Spray-Draper had a team in the Class D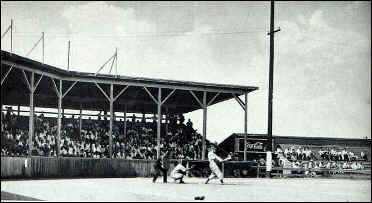 Bi-State League known as the Triplets. Other teams included the Danville Leafs, Reidsville Luckies, and Winston Salem Twins (See bottom of page for a chart showing the Bi-State League). The team played their home games at Tri-City Baseball Park in Draper.
Click on images for larger view
1- Leaksville outfielder Joe Frazier was only 19 years old when this photo was taken in 1941. A native of Liberty, NC, he eventually went on to spend parts of four seasons in the big leagues, primarily with the St. Louis Cardinals of the National League.
2- Second baseman Al Letrick works on his fielding in front of the Leaksville ballpark's grandstand in 1941. It was a very nice park when it was originally built in the 1930s. It had an approximate seating of 1,500.
3- The 1941 Leaksville-Spray-Draper Triplets who won the Bi-State League pennant that year. Front row: Cecil "Zip" Payne, Cotton Powell, Harry Land, Charlie Cuellar, unidentified. Back row: Vinnie Fernandez, Lynwood "Hank" Tillotson, unidentified, Harold Scalpini, Al Letrick, Ken Ryhne, unidentified, Joe Frazier, unidentified
4- Toler Ransome from Buchanan, Virginia (left) and unidentified Tri-City player (right) in photo was taken in either 1941 or 1942. The following was e-mailed in from Gary Wade concerning this photo:
"The gentleman on the left is Toler Ransone from Buchanan, Virginia. He was a friend of my late father-in-law, Willie Bringle McBride. We have several pictures of the gentleman...he was a professional player until his 60th birthday in 1965. He played catcher for the Outlaw League, in Valdez, NC. Born in 1905 , one of 14 children and passed away in January 0f 1997....6 months before Bringle. I don't know the other gentleman".
(Photo and information submitted by Chris Holaday and Herman Searcy)
Chris Holaday has written two books, Baseball in the Carolinas and Professional Baseball in North Carolina, which can be purchased from McFarland & Company Inc., Publishers; Box 611, Jefferson, NC 28640. Or follow the links on the titles above, or go to www.mcfarlandbaseball.com .
Bi-State League
1942
1941
1940
1939
1938
1937
1936
1935
1934
Burlington
Bees
Danville-Schoolfield
Leafs
(BOS)
Danville-Schoolfield
Leafs
(BOS)
Danville-Schoolfield
Leafs
(BOS)
Danville-Schoolfield
Leafs
(BOS)
Danville
Leafs
Danville
Leafs
Danville
Leafs
Danville
Leafs
Danville
Leafs
Leaksville-Draper-Spray
Triplets
Leaksville-Draper-Spray
Triplets
Leaksville-Draper-Spray
Triplets
Leaksville-Draper-Spray
Triplets
(CLE)
Leaksville-Draper-Spray
Triplets
Leaksville-Draper-Spray
Triplets
Leaksville-Draper-Spray
Triplets
Leaksville-Draper-Spray
Triplets
Leaksville-Draper-Spray
Triplets
Rocky Mount
Rocks
Sanford
Spinners
Sanford
Spinners
Wilson
Tobs
1942
1941
1940
1939
1938
1937
1936
1935
1934
Martinsville
Manufacturers
(PHI)
Martinsville
Manufacturers
(PHI)
Martinsville
Manufacturers
(STL)
Martinsville
Manufacturers
Martinsville
Manufacturers
Martinsville
Manufacturers
Martinsville
Manufacturers
Martinsville
Manufacturers
Mayodan
Millers
Mayodan
Millers
Mayodan
Millers
(PHI)
Mayodan
Millers
Mayodan
Senators
Mayodan
Orphans
Mayodan
Mills
Mayodan
Senators
Mt. Airy
Graniteers
Mt. Airy
Graniteers
Mt. Airy
Graniteers
Mt. Airy
Graniteers
Mt. Airy
Reds
Mt. Airy
Reds
Mt. Airy
Reds
Mt. Airy
Graniteers
Bassett
Furnituremakers
(BRK)
Bassett
Furnituremakers
(CIN)
Bassett
Furnituremakers
Bassett
Furnituremakers
Bassett
Furnituremakers
Bassett
Furnituremakers
Reidsville
Luckies
Reidsville
Luckies
(BRK)
Reidsville
Luckies
Reidsville
Luckies
Reidsville
Luckies
Reidsville
Luckies
South Boston
Wrappers
South Boston
Wrappers
South Boston-Halifax
Wrappers
South Boston
Twins
Fieldale
Towlers
Fieldale
Towlers
Fieldale
Virginians
Back to the Photos