Glenos's Lunch Room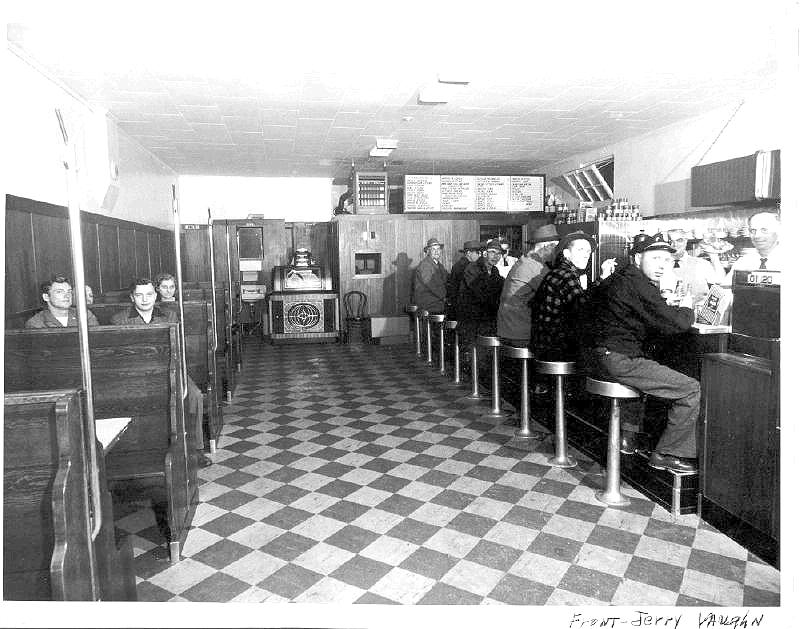 This is Glenos's Lunch Room in Leaksville. George Glenos and Theodore Kalogridis are behind the counter and Jerry Vaughn (taxi driver) is seated next to the cash register. Three seats to his left is Rob "Hootie" Harris. Theodore Kalogridis was well know in the area. If you recognize anyone else, e-mail me at kenny@leaksville.com. (Photo submitted by Bill "Buster" Glenos)
Steve Turner wrote: "I believe the second person from the left (seated in a booth) is Ted Turner, son of Morris and Trudy Turner. They were and are lifelong Eden residents. Ted was born in the mid -1930's."
April Fail wrote: "I was looking at the picture and was surprised to see that the man next to the taxi driver in the checked coat is my grandfather Walter Weaver. He lived on Lawson street with my grandmother Kathleen Tucker Weaver and his three little girls."
"I have enjoyed all of the pictures and the website. I have seen a lot of the things that the older people in my family would talk about. It is nice to see the places they went. My grandma would talk about the covered bridge. She said her two brothers would go swimming close to it and she would sit and watch. She never learned to swim because as she said girls did not have suits. It was not lady like."
Bill Knight wrote on 3/1/2008:
I think the man at the far end of the counter was my uncle Dr. Alex Stanford. He traveled to Greensboro six days each week to conduct his dental practice before returning to practice in Leaksville each afternoon. He was an early riser – around 4:00 a.m. – and stopped regularly at the restaurant for breakfast. I can't be sure, but the picture certainly looks like him.
His wife and my aunt, Hester Knight Stanford, owned the restaurant building and was the landlord, unless she sold it in a later year that I'm unaware of. Uncle Alex passed away in 1980 and Aunt Hester several years ago, around 2003.
Bill Knight wrote on 3/3/2008:
Yes, this is the correct photo, on Washington Street between Chandler Drug and Pace Stone Furniture. There was another restaurant at the corner of Washington and Patrick Sts. that I believe was Greek owned, but I don't' remember it's name. It was across the street from the Leftwich Motors ( Hudson dealership). My uncle also frequented it. I hope I have Glenos Restaurant situated in the right place.
I used to deliver – at different times – Danville Bee & Register, Leaksville News, and Greensboro Daily News. Once in a while I stopped by the restaurant, but more often went to Leaksville Café or Mrs. Roberts' Dining Room next door. Once in a while I went to the small café next to the Firestone store on the corner, across from Carolina Drug, for beans and cornbread – 25 cents I think.
There's a picture of Leaksville Café with flood water in the street. I would almost be the 1939 Chevrolet parked out front belonged to my Daddy, although there's no way to prove it. He bought the car new for about $600, and I don't remember many other '39 two door sedans around.
I attended a funeral Saturday for my cousin Dallas Gwynn and saw a number of long lost friends. I told them about Leaksville.com and several were unaware of it. But there were others, like me, who visit it often and can't get enough.
---