View of Spray, North Carolina in 1875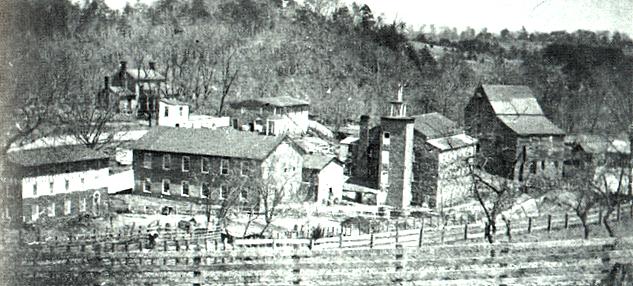 This is Spray, N.C. in 1875. Spray was actually known as Splashy at the time, however. This photograph appeared in the August 30,1928 issue of The Arrow. a Spray newspaper, with the following caption:
"The picture was taken on the hill in front of the long white house across Tackett's Branch and just behind the present site of the Leaksville Woolen Mill and the residence of Mrs. B. Frank Mebane [Moorehead-Mebane House]. From left to right: Old Leaksville Woolen Mill, the company store which was the beginning of the present Spray Mercantile Company, the Weaving Department of the Leaksville Cotton Mill, the Machine Shop and Boiler room of the Old Leaksville Cotton Mill and the Old Grist Mill. In the background is a residence occupied at the time the picture was taken by Mr. Frank Hamlin and further to the right is the picker room. The residence is located across the road from the present office of the Leaksville Cotton Mill. In the background is seen the bluff on the east side of Smith River."
All of the structures have been demolished. Mrs. R. P. Ray believed that the residence was built about 1832 by John Hall Bullard, mill superintendent.