Inside Photo of the Leaksville Restaurant and Dining Room, 1930s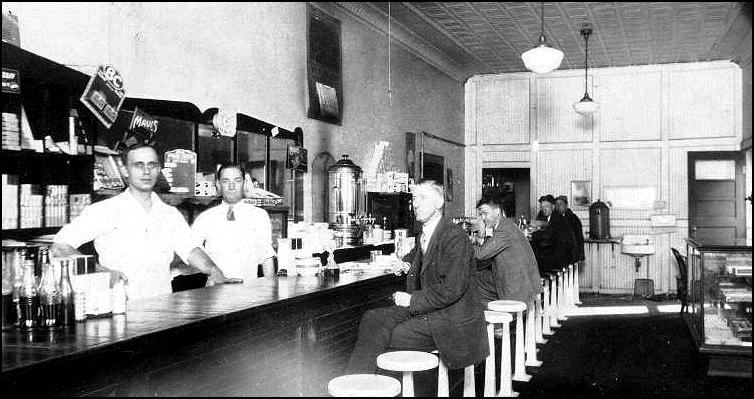 This is a photo made in the Leaksville Restaurant sometime around the mid-1930s. Behind the counter are George Glenos (left) and Carl "Pig-Eye" Bateman (thanks to Lee Self for identifying Carl). Can anyone identify the customers?
Workers in the restaurant over the years included Lee Self, A.D. Roberts, Simon Austin, Glenn Archibald, "Nick"Politis, Tony Politis, Tom Glenos (my father's brother), Theodore Kalogridis, Nathan Broadnax, "Luke", " Little George" Takakis, "Shag" Robertson, Fred Robertson, Bernard "Cootie" Robertson, "Hen" Fulton, Pat Patterson, Pete Ault, Charlie Bryant - (Lee Self's uncle on his mother's side), and Marvin and Fred "Blondie" Danaho ( Lillie Danaho Glenos' brothers).
(Photo and information submitted by Bill "Buster" Glenos and Lee Self)
---
Back to the Photos