Dick's Drive-In World War II Photos
Dick's Drive-In, a well-known eating establishment in Leaksville, (presently Eden) North Carolina has a growing number of photographs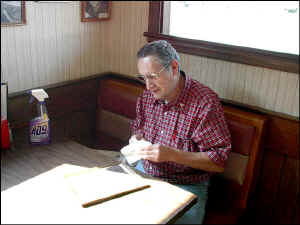 of veterans of World War II hanging in their dining area. Ben Pruitt, who has built the collection, was kind enough to allow us to photograph some of them. The photos below are from his collection...
(Pictured at right is Ben Pruitt of Dick's Drive-In, cleaning the glass on one of his photos. Click his photo, or any of the ones below to enlarge them...)
1- These are Ben Pruitt's three brothers, Horton, W. D. and Ollie who were involved in campaigns in Italy and elsewhere in Europe.
2- The three Hensley brothers from Leaksville, Curtis, James and John of Leaksville. Curtis, although he survived the war, was murdered in his own home in Louisiana by a thug trying to rob him.
3- Leo "Jack" Wilson, one of the youngest killed in the war in France at only 18 years, 11 months old. Jack was also from Leaksville.
4- George M. "Woody" Vernon, who served in the U. S. Navy. Woody was a long-time driver-partner of Howard "Buddy" Carter with Pilot Freight Lines.
5- Lloyd C. Dillon,of the Fifth U. S. Army and Spray, N. C. Lloyd was killed in action August 1, 1943 in North Africa.
6- Billy Hill, son of Willy and Ann Mae Hill of Leaksville, N. C. Billy served in the Navy 1944-48 and in the Naval Reserves in 1953.
7- Artis Carter, who served in the U. S. Navy 1943-46
8- John Humphrey, killed at Iwo Jima in 1945.
This is the official list of Rockingham County casualties during World War II. Please click to enlarge the images below:
---

North Carolina County Casualties World War II

Honor List of Army and Army Air Corps

Just click on the county of your choice to view the listing for that county. Some counties have more than one page, that is listed on the first page of the county.

The long number following the name is the selective service number, rank, other letters,
KIA=killed in action
DOW=died of wounds
DOI=died of injuries
DNB=died non-battle
FOD=finding of death,
M=missing

---

Dick's Drive-In
1004 Washington Street
Eden, NC 27288
(336) 627-7112