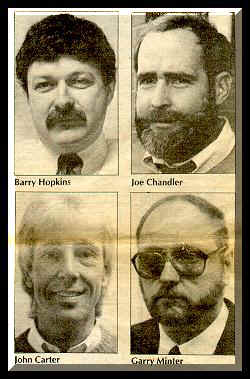 Season's memory still spurs teammates

By TONY GUNN

LEAKSVILLE - The fifteen had everything any coach could want in a basketball team - height, quickness, intelligence and experience. But behind by 10 points with less than four minutes to play in the most important game of the 1965-66 season, Morehead's chances of winning the state high school championship appeared gone.

Coach Hugh Citty called a timeout and installed three weapons. Two of those were reserve guards Gene Luna and Frankie Westmoreland, who pumped new life into the squad. The other was a man-to-man trapping defense. The combination forced Raeford Hoke High to turn the ball over six straight times, enabling Morehead to rally for a three-point victory, 82-79.

Twenty years later, many of those 15 players vividly remember that game, which culminated a 26-0 season. No Morehead basketball team has won a state title since then. And many players on that championship team attribute their success today to the ideals they learned through sports. The '65-66 Panther team's origins can be traced back 10 or more years earlier, when its members played with and against each other at the local Boys' Club and YMCAs, then at the area's two junior high schools. The team solidified at Morehead.

"The starting five of the Morehead Panthers for 1965-66 never changed," recalled John Marshall Carter, a reserve guard on that team. "Dale Manuel, Mike Harris, Barry Hopkins, Garry Minter and Johnny Baker were locked into starting positions from the beginning of fall practice." All were seniors who had started the previous year, and all had all played together for the last two years. "They didn't need a coach," recalls Citty, now head of the physical education department at Rockingham Community College and also a high school basketball referee. "They just needed to go out and play."

Two victories each over Martinsville, Va., and county rival Reidsville highlighted the regular season. The wins over Martinsville proved particularly noteworthy because the Bulldogs won their state championship that year too. "It was like we won two championships," Carter says of the victories over Martinsville.

Morehead again defeated Reidsville in the conference tournament and might have played the Lions a fourth time had they not been beaten in the state quarterfinals.

Carter calls the championship game, played at Durham High, one of the most exciting games he's ever watched. "Notice I said watched," he adds. "The splinters got excruciatingly difficult that legendary evening."

Gilbert McGregor gave Morehead the most trouble the night of March 12, 1966. The Raeford center blocked shots, rebounded well, and scored 31 points. "But the injection of life by the subs, the 32 points by Barry Hopkins, who made first team All-State, and general hustle by all involved, brought the Panthers back," Carter says.

After a postgame meal of steak and fudge cake at Shoney's in Durham, the team returned to Leaksville, and later was honored with another steak dinner at Meadow Greens Country Club.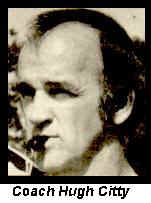 Citty, who keeps that season's scorebook on hand at his RCC office, says at the season's start he did not think the team would go undefeated. "When you do that, you've got to have a lot of luck. That we had".

In an essay Carter has written on the season, he identifies desire, pride, good coaching and talent, plus solid backing by citizens, parents and school personnel as factors contributing to the championship. Manuel was 6-foot-9, and 11 other players were 6 feet or taller. "Everyone could shoot...and the bench was very, very good," Carter adds with a grin.

Six from that championship squad went on to play college basketball, and three of those started for their teams. Another played college football. At least 11, Carter says, earned undergraduate degrees, and six added master's degrees. They include Baker, a physician; Carter, an assistant professor with a doctorate in medieval history; and Luna, who is earning a doctorate in education.

Another, Westmoreland, has stayed in basketball. He coached a team to a 4-A state title in Florida two years ago, although he says it was not as enjoyable as the run 20 years ago. "Too much pressure," he says. Last fall he returned to this area as head boys basketball coach at Eastern Guilford High.

"I've got a tape of the game on radio," Westmoreland says. "At the time, you don't realize how great it is."

The season came back to Westmoreland in late November at Eastern's first game. Citty, whom Westmoreland had not seen in ten years, refereed the contest.

Minter has remained in Eden and works in the industrial engineering department of Fieldcrest Mills. A look through newspaper clippings recently brought the season back for him.

"Most of us had been playing together for years and years, and we knew what each other was going to do," he says.

"The fact of being undefeated didn't really sink in until it was all over. It was not something many people do. We took it one game at a time. It worked for 26 games."

Reserve forward Joe Chandler, now a certified public accountant in Eden and an instructor at Forsyth Technical College, praises Citty as an innovative coach who installed new defenses, such as jump-switches, before other coaches did. Chandler gives Citty much credit for the team's success. For Chandler, "It was the chance in a lifetime."

Hopkins, a sales manager with Pilot Life Insurance Co. in Greensboro, expected to win the state championship before the season started.

"We were confident," he says. "We felt that even when we were down, we'd come back to win it."

The majority of the team's members no longer live in or near Eden and rarely see each other. Despite that, Carter says he still feels close to his teammates.

"You can look back and look at what you once were," he says. "It's a sense of accomplishment. You look back and thank your lucky stars."

Westmoreland notes the importance of learning to be able to come back from behind. "You see, if you set your mind to it, you can do anything you want."

The competitive drive Hopkins learned in basketball has paid off in his work, he says. "Sports has had the greatest impact in my life."

Manuel says he benefited not only from learning the team concept but in a more tangible way. The powerful center received a basketball scholarship to Virginia Tech and "got an education I might not have otherwise." Today, he is controller for Renfro Corp. in Mount Airy.

"It was an enjoyable experience," he says of that championship season. "We are very proud of our accomplishment."

This article was written in 1986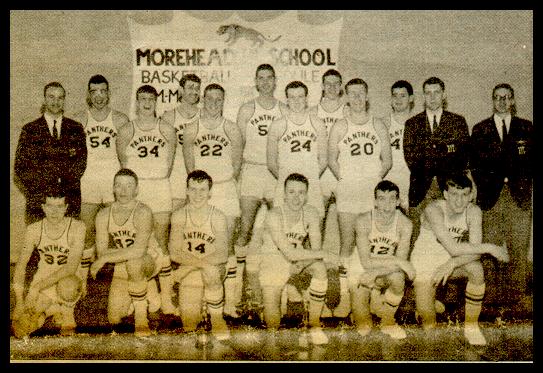 Members, managers and coaches of the 1965-66 Morehead High School (Leaksville, NC) basketball team display their trophies after winning the state 3-A championship. The team, behind reserve guards Gene Luna and Frankie Westmoreland, came from 10 points behind in the last four minutes of that game. They defeated Raeford Hoke High 82-79, took the title and wrapped up a 26-0 season. Kneeling, from left to right, are Bo Davis, Danny Squires, Mike Snodderly, Mike Harris, Gene Luna, and Alan Jarrett. Standing, front row, are head coach Hugh Citty, Frankie Westmoreland, Gary Minter, Barry Hopkins, John Carter, manager Johnny Self and assistant coach Lowell Harris. Back row, from left, are Ken Rudd, Johnny Baker, Dale Manuel, Mike Hubbard, and Joe Chandler.

Want to make a comment or add your memories of Morehead's 1966 championship season? Send an e-mail to kenny@leaksville.com and I'll add it to the bottom of this page...
Team Members pursued various careers
Members of the 1965-66 State High School Basketball Championship Team at Morehead today are spread from Florida to Tennessee.

Here's an update on their whereabouts (in 1986):

Johnny Baker--Obstetrician/gyne-
cologist in Raleigh.
John Marshall Carter--Coached the Fayetteville Academy basketball team to the Eastern Independent Conference Tournament Championship in 1976. He received a PhD from the University of Illinois at Urbana-Champaign, taught at East Carolina University, and is currently a teacher in Georgia.
Joe Chandler--Received a football scholarship to University of South Carolina and is now a certified public accountant in Eden and an instructor in tax, accounting and auditing at Forsyth Technical College.
Bo Davis--Served in the military. Present whereabouts unknown.

Mike Harris--Former tennis pro at Sedgefield Country Club in Greensboro, now working in Jacksonville, Fla.
Barry Hopkins--Played basketball for Pembroke State University, now sales manager for Pilot Life Insurance Co. in Greensboro.
Mike Hubbard--Present whereabouts unknown
Alan Jarrett--Insurance salesman in Little Rock, Ark.
Tim Kirkpatrick--Played with championship team until early February, now owns Henderson Street Bar in Chapel Hill.
Gene Luna--Played basketball for Roanoke College, received a doctorate in education at the University of Florida at Gainesville, and is now an administrator at the University of South Carolina in Columbia, SC.
Dale Manuel--Received basketball scholarship to Virginia Tech, now controller with Renfro Corp., a sock manufacturer in Mount Airy.
Gary Minter--Employed by Fieldcrest Mills in Eden in its industrial engineering dept.

Mike Snodderly--Computer salesman in Nashville, Tenn.
Ken Rudd--Band director in Statesville.
Danny Squires--Employed by the N.C. Department of Social Services in Raleigh.
Duffy Franklin (Frankie) Westmoreland--Guided a high school team in West Palm Beach, Fla., to the state championship two years ago. He is now head boys basketball coach at Eastern Guilford High School , east of Greensboro.
Coach Hugh Citty--Coached at Morehead from 1960 to 1968, leaving for present post as head of Physical Education Department at Rockingham Community College. Also serves as a high school basketball official.
Assistant Coach Lowell Harris--Deputy Director of the Division for Exceptional Children in the N.C. Department of Public Instruction in Raleigh.


Comments
Gene Luna writes on 12/22/01:
Being a part of that "highlight" season led to many other "highlights" for me, thanks to a large part to the work that Coach Citty did on my behalf. His efforts lead to my being able to enjoy a college education and four more years of basketball at Roanoke College in Virginia. At Roanoke I played for Coach Charlie Moir who had previously coached at Mount Airy High School. At Roanoke, I was blessed to enjoy several more basketball "highlights", including a winning half court shot my freshman year and leaving the college as their fifth leading career scorer (my roommate, Frankie Allen, left as the leading career scorer). Yet, although I've had a variety of successes since then, both in basketball and my career, nothing has come close to the excitement and team spirit that grew during our Championship Season at Morehead High School. We were all very fortunate to be part of something that special. I just still can't figure out why I cried so much...
Best to all for a Wonder Filled rest of your lives!
---
Keith Stogner writes on 8/12/06:
I came across this article and found it very interesting. I often wondered what happened to all these players. I was a starting guard for Bartlett Yancey in 65-66. We played against this outstanding team twice that year. We were in the same conference back then. These guys stuck in my mind, because they were so good. Nelson Isley of Reidsville was the best individual player that I faced, but Morehead was by far the best team.

Thanks,
Keith Stogner
Chatham, VA
---
I am Mike Harris's nephew. He is currently the Tennis Director at Colonial Country Club, in Memphis, TN. His sister Betty DeGutis Atkins moved here in 1967 with her first husband Vincent Anthony DeGutis. She is now married to Terry Atkins, who is also from Eden, N.C. Mike saw the article for the first time today and he was excited. I have also heard about that basketball season many times from Mike. If you want to contact Mike Harris, call Colonial Country Club or call me at the number listed below and I can give you his number. (Anytime)
---
E-mail your comments.