Bible School at the old Spray Presbyterian Church c.1932
Spray, North Carolina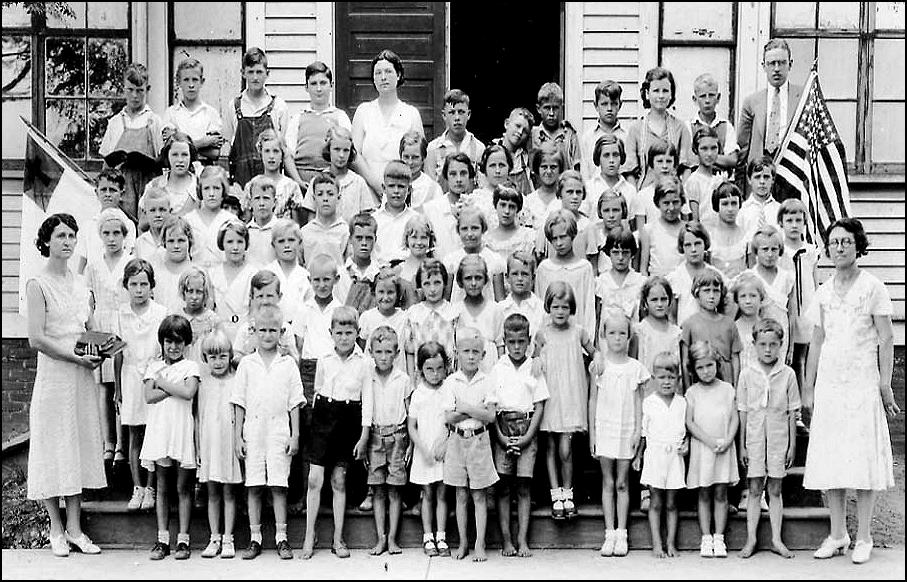 This picture was probably made about 1932. I get this date by calculating my daddy's age at the time, going by the picture.
Thomas M. Lee is 5th child from the left on the front row. The adult female at far left is my grandma's sister, Ora Janney Yarbrough. The adult female at far right is another of my grandma's sisters, Okey Janney Cheek.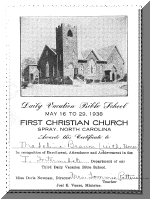 This Vacation Bible School certificate (left), also from the First Christian Church in Spray, is dated May, 1938 and was awarded to Madeline Brown by her teacher Mrs. Tommie Patterson. VBS Director was Miss Doris Newman, and the Minister was Rev. Joel E. Vause.
Please click certificate to enlarge it...
---
(Photo and information submitted by Michele Lee Grant)
(Mac Hodges wrote:)
This church was one of two that eventually formed what is now the First Presbyterian church currently on Bridge Street. The names are correct i.e. Okey Cheek and Ora Yarborough. These ladies were my neighbors as I grew up and were members of the Presbyterian Church. The church in the photo still stands and was Early Avenue Baptist church for many years. My mother was the organist there for many years....just thought that you would like to know..........thanks for the outstanding site....Mac Hodges